The exhibition is the heart of the ökoRAUSCH Festival. This will be our second time at the MAKK, and this time for a whole four weeks. It will be a 250 square metre presentation of high-quality, sustainable products, innovative design concepts and contemporary art. Be it intelligent, provocative, brave, unconventional, playful or trendy, the featured artists and creative entrepreneurs will show the diversity and the current developments of a growing scene that takes sustainability into consideration from the ground up.
+++ Admission to the exhibition is free of charge +++
ökoRAUSCH will of course be following the Coronavirus health and safety regulations. Please note the requirements for visiting the design and art exhibition as well as the learning exhibition of our co-organisers Stadt Land Welt:
Please wear a mask/face covering (covering both mouth and nose) at all times and maintain suggested physical distance between you and other visitors. Thank you in advance for your cooperation! And please be sure to visit our website before your visit to the Festival as we reserve the right to make changes to our concept due to the nature of the COVID-19 pandemic.
Due to the Coronavirus there is also a limit to the number of people who are allowed to be in the MAKK at one time. That's why you can get your ticket here to guarantee your entrance to the exhibition – no lines, no waiting.
The MAKK is located directly in the heart of the city of Cologne:
An der Rechtschule, 50667 Cologne
Closest tram stop: Hauptbahnhof (Main train station)
Design made in NRW
The state of North Rhine-Westphalia (NRW) has taken the leading role as the home to creative industries and sustainable design. This role is reflected in the ökoRAUSCH exhibition as it highlights the growing diversity of this particular part of the industry! The entire exhibition has been funded by the Ministry of Economic Affairs, Innovation, Digitalisation and Energy of NRW.
ecosign / pius
Pappen-Heimer (Pappe=cardboard; Heim=home) is a Cologne-based start-up that develops clever and sustainable cardboard cases for the popular minicomputer Raspberry Pi. The first model was developed as a university project in 2018.
Jonathan Pohlke / Cologne / study project
pappen-heimer.de
Myamo
Design and Ecology trigger change using regenerative resources, favouring sustainable, long-term thinking to short-term gain, and moving away from a non-human centred perspective toward product, system and service designs that benefit all.
KISD - Lab Culture, Katharina Querbach / Cologne / study project
kquerbach-design.com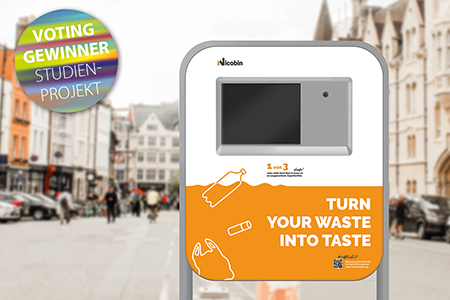 Nicobin
Carelessly discarded cigarette butts have serious consequences for our environment. Three students at the University of Applied Sciences Rheinische Fachhochschule Cologne, Lena Pietsch, Lina Knoche und Susanne Weiskopf, have developed a solution for this problem: Nicobin.
Susanne Weiskopf, Lina Knoche, Lena Pietsch / Cologne / product design, social design, study project