Partner of the 2020 Festival  | Guest contribution by the GIZ
The ökoRAUSCH Festival 2020 is supported by many great cooperation partners. We would like to give them the opportunity to present themselves and their current projects.
NachhaltICH* – What gender equality has to do with sustainability and how you can contribute to the cause
Goal 5 of the 17 Sustainable Development Goals (SDGs) has set a clear goal: Gender equality should be achieved by 2030. But what does gender equality have to do with sustainability, and hasn't this already been achieved in Germany? After all, men and women have the same rights. March 8 is International Women's Day and we have taken this day as an occasion to really think about these questions.
Gender equality is sustainability
The 17 SDGs are holistic because they do not only take into account the ecological perspectives of sustainability, but they recognise that social and economic aspects are just as important for both a sustainable life and society. Furthermore, the SDGs take into consideration that the individual goals influence one another, so the interdependencies must be considered.
When talking about gender equality worldwide, the numbers speak for themselves: there is still a lot to do, not only for the specific targets of SGD 5, but also with regard to other goals. This pertains to everyday life, such as the job market and health; for example, women represent approximately 40 % of agricultural workers, but only around 14 % of landowners are female. Furthermore, around 300,000 women die annually due to complications during pregnancy or childbirth due to lacking quality health care. Women are especially vulnerable during war and crises; for example, three out of four victims of human trafficking are female.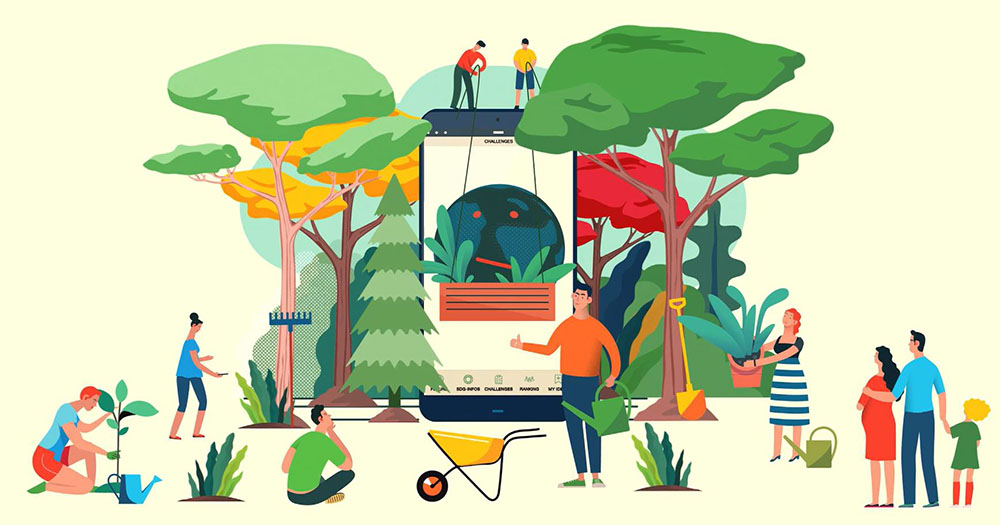 Not a German problem?
Yes it is! Lacking gender equality is not just a problem that other countries have. It is estimated that in Germany, one in three women will experience violence during her lifetime, often in a romantic relationship. This is only an estimate, however, because many women do not press charges.
Even the much discussed "gender pay gap", the gap between the pay women and men receive, is an issue that is relevant in Germany. That does not necessarily mean that women are paid less for doing the same job. Factors such as part-time jobs are taken into account because women often do not work full-time: they are the ones with the most responsibility in the family. Care work, meaning the care of children or other family members, is unpaid. Women therefore have a smaller income than men and are more financially dependent on their partners than men are. At the same time, they have a double load with care work and wage labour, and their work is valued differently by society; it is equated more with care and emotions than with profitability. A more sustainable world is therefore a world that also supports more equal conditions between genders. For it is only when everyone has the same rights that we can actually live sustainably.
Gender equality – not only for women
Gender equality is often equated with the needs of women and girls. But the rights of members of the LGBTQIA+ community are also taken into consideration under the umbrella term of "gender". Because gender quality often relates to role models and stereotypes, men also benefit from the discussion about this issue because when female gender roles in society are questioned, the roles of men in society are also questioned.
What can I do?
For the most part, gender equality has been achieved in legal terms and has come a long way, especially in recent decades. Two examples: Until 1997, marital rape was not recognised as such in the eyes of German law, it was considered assault or coercion. Until 1958, a husband was allowed to terminate their working wife's labor contract without notice – and without the woman's consent – and he had the exclusive right to manage her wages.
These laws no longer exist, but the corresponding roles have not quite disappeared. They have changed over the years, but they are so deeply engrained in our society that they still influence our thinking and therefore our behaviour. Which is why it is so important to speak about and question the status quo, especially regarding issues such as gender equality, where the problems are not always obvious at first glance. In speaking about it and questioning it, you are directly advocating for a more sustainable society.
The NachhaltICH app offers you specific suggestions regarding this issue. Have you ever talked to friends or family about gender-based discrimination? Do you know if there is a gender equality officer at your school, university or at work? Is there an association in your town that campaigns against genital mutilation? What is the gender pay gap in your company? Gender equality is a sensitive issue that begins in the minds of people, which is why it is of great value to have quality conversations about it: It affects not only our female friends, sisters, mothers and grandmothers, but also our male friends, brothers, fathers and grandfathers.
So what are you waiting for? You can download the app from any app store, Google Play, or directly from www.nachhaltich-app.de and take on exciting challenges!
*A play on words meaning "Sustainability and me"