Flaÿou – "joyful design" made in Tunis
Introduction
Hella El Khiari and Thomas Egoumenides first met 2009 in Paris, where they both studied Architecture. After a few years of working as architects in different studios throughout Paris and Montreal the Tunisian-French couple moved to Tunis, Tunisia. Here, in 2016, they founded flaÿou – an interdisciplinary design studio for graphic, object and architectural design.
Visiting the Studio
We got to know Hella and Thomas during our research trip to Tunis in November 2019. Visiting their studio in the district of La Marsa, we learn about their motivation, curiosity and passion toward materials, techniques and objects that tell their own story. Welcoming us with coffee and homemade cookies, we're completely delighted by this self-proclaimed "dream team" bursting with energy and positive charm. 
The playful and refreshing approach reflected by each of their objects matches the studio name: In Arabic "flaÿou" referres to a specific type of mint and is also a nickname for typical Tunisian mint drops that are usually attached to business cards as a small gift.
"Joyful design" is the term Hella likes to use in this context. They want their works to be fun. All the products we are shown in their space are colorful, playful and made with attention to detail. As a basis they work with ecological and recycled materials like clay, cork, collected plastic bottles or other pre-used materials.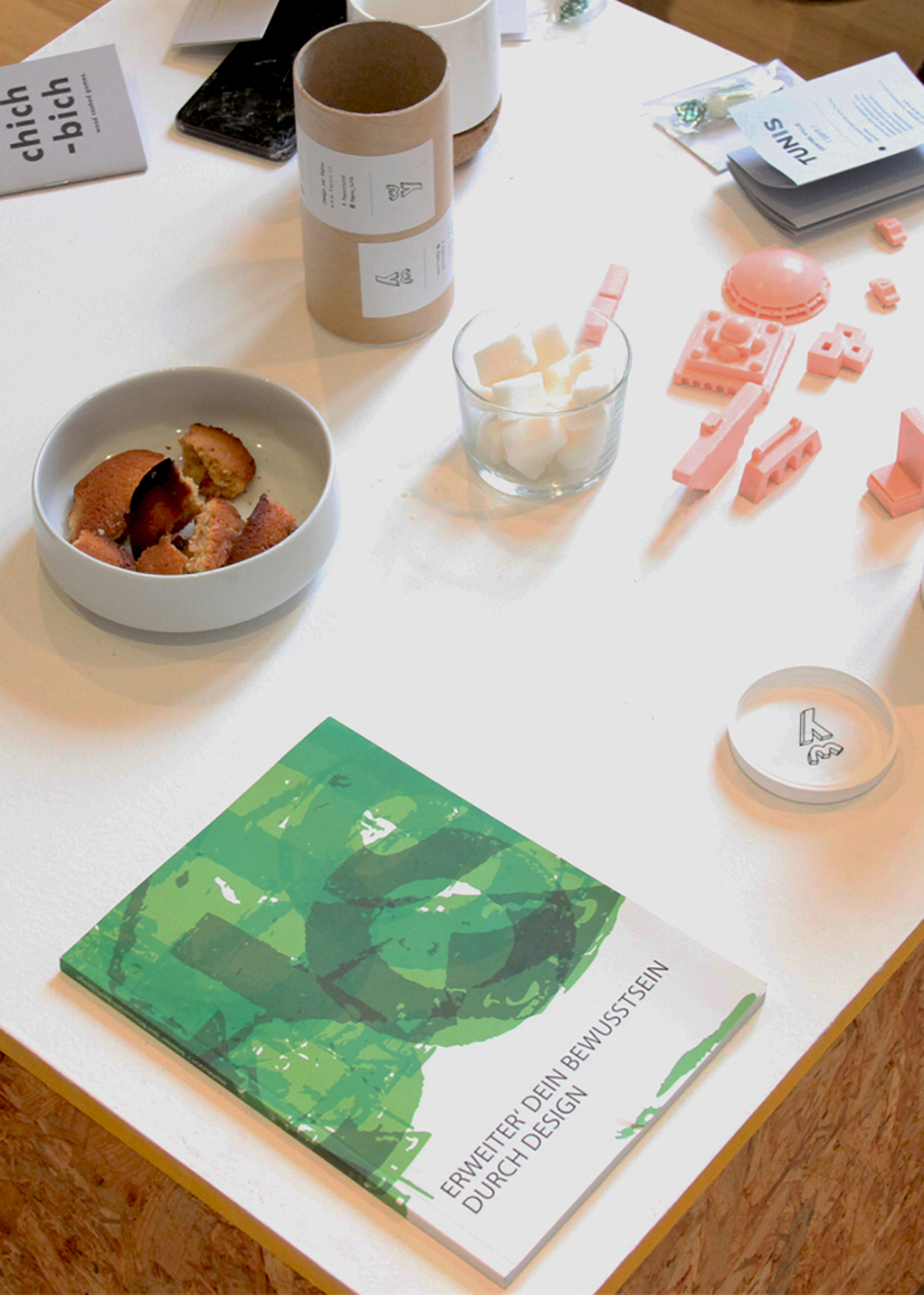 About two of their products we talked about in more depth and discover more about the idea and the design process:
Chich-bich (Backgammon)
Inspired by the craftsmanship of the female potters from Sejnane in the northern part of Tunisia, flaÿou created three strategic games made of cley, burnt in the open fire. The collection's name "Chich-bich" is the Tunisian word for Backgammon. Chess and Checkers are also part of the series. All the figures are handmade (without a pottery wheel) and can be bought in a variety of colors. For the traditional coloring local herbs and other plants are used. Going hand in hand with the humorous approach of the "dream team" the games are presented in home-designed pizza box packaging.
On their website the collection's elaborate creation process is shown in a video. The traditional handicraft pottery of the Sejnane women made it onto the UNESCO Intangible Cultural Heritage list in 2018.
Tunis en poche…
… is the name of a miniature city made from pastel colored resin, cork or chocolate. The set includes eight miniatures of iconic Tunis buildings. They are each paired with a leaflet with personal anecdotes and information about their history and architecture. The former entrance gate to the old part of the city "Bab Saadoun", the Olympic stadium "El Menzah" as well as the impressive and vacant "Hôtel du Lac" are just three examples ans show an interesting variety of construction and styles that characterizes the city's appearance today.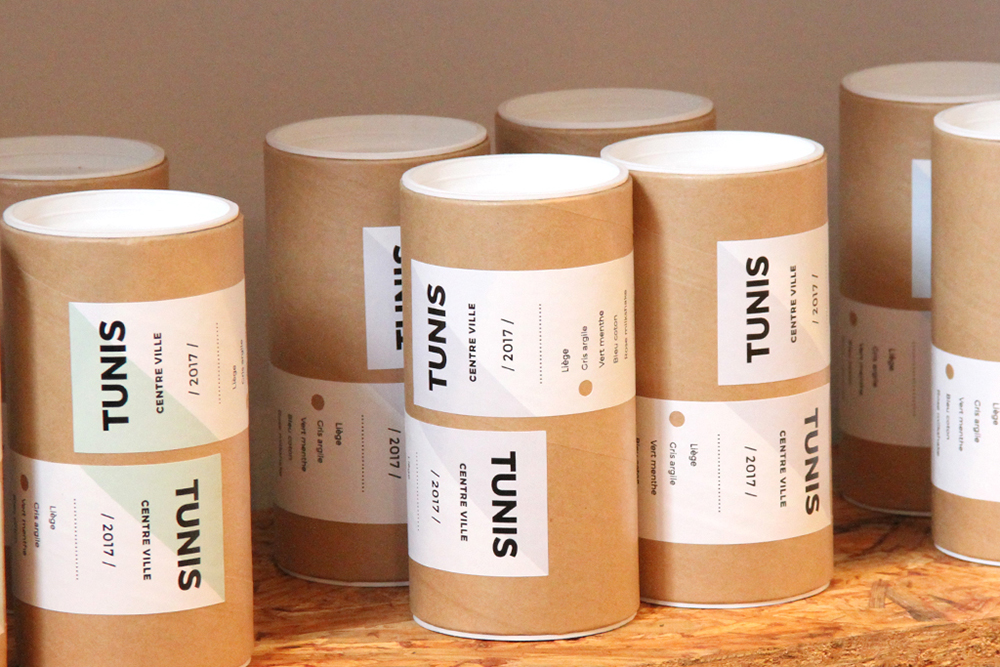 Hella and Thomas sell their work in a few selected shops in and outside the country as well as in their online shop. They also share their passion for materials, traditional crafts and innovative production methods in workshops and other cooperative projects. If you want to learn more about them, have a look at their website.
We are very excited to have met the two of them in this personal way and wish them all the best for the future, a ton of fun and fresh ideas!
Fotos: Achref Guesmi
___________________________
Die Recherchereise nach Tunis und Thessaloniki im Rahmen des ECO DESIGN FORUM international veranstalten wir als Kooperationspartner der Stadt Köln. Das Projekt wird gefördert durch die Stadt Köln aus Mitteln der Partnerstadtprogramme und Engagement Global aus Mitteln des Landes Nordrhein-Westfalen.